What we can do for you
Our operations team, Castlebridge Hospitality, are there for you through every stage.
From the start of construction, to the grand opening and beyond, offering you an individual and high standard hotel management service.
Here at Castlebridge, we play a huge part in the performance of your business, improving revenue, value and share in the market.
We put in place the right systems to boost returns and carry out comprehensive hotel business reviews (such as Revenue, Commercial, Brand Standards, Hotel Metrics & Guest Experience) so that you stay right on track.
THE MANAGEMENT SERVICES INCLUDE:
Operation
Human Resources
F&B Operations
Liaison with the Brand Franchise
Sales & Marketing (including web optimisation)
Attendance to Owner's association
Monthly meeting with owner (provision of board pack)
Our Developing Process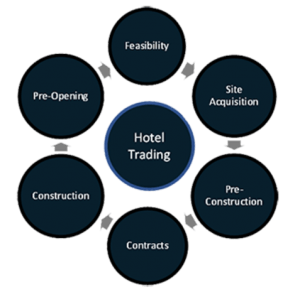 The development and funding of a new international branded hotel project can be a complicated process which may take several years from inception to completion.
Our professional team have a wealth of experience in the development life cycle and can generate profitable investments.
Ownership
In most cases when developing hotels, our investors look to hold the asset long term, especially in key city locations. We have experience in creating hotel portfolios.
Hotel Operations
Castlebridge Hospitality operates high quality hotels in the UK & Spain. Its corporate objective is to be recognised as a multi brand hotel management company. 
Our Operations team is involved right from the start of the design and throughout the construction of the hotel with appropriate systems and controls in place to maximise the return of the asset owner.
The management services cover all aspects of the hotels operations including:
Hotel Operations
Digital & Marketing
F&B
Revenue
Procurement
T & system management
Human Resources
Monthly meeting with owner
Liaison with the Brand Franchise
Attendance to Owner's association meetings